Spending some days in A Casa da Ita means enjoying a typical Galician cottage which is more than a hundred and fifty years old.
Its broad stone walls have seen a lot of history of Galicia, among the surrounding rolling hills. Circled by woods, this village, called A Eirexa (The Church, in the local dialect), in Soutopenedo, is one of the most interesting ones in the area.
Its Romanesque-Baroque church and its impressive landscape give this area interesting hiking routes. The historical and cultural heritage is outstandingly preserved.
Where is A Casa da Ita?
42.26262386110409, -7.8885909725675765
Our house
A Casa da Ita consists of four bedrooms (two with doble bed and two with separate beds, 8 guests total) and a large lounge. It also offers a full kitchen and two bathrooms. It's only hired as a whole.
The house has a 200m2 back garden with swimming pool and barbecue.
Services near the house
Around 200 metres away there is a bar, the Taberna do Antelano, in A Venda (the links lead to the GoogleMaps location)
The nearest grocery is located five minutes away by car, in Loiro de Arriba: Bar-Tienda Marina, Tel. 988383001
Around twelve minutes away by car, on the outskirts of Ourense city, there is a big mall, with Carrefour and Lidl (hypermarkets), Sprinter (sports), Feu Vert (car repair shop), etc
Sightseeings

A few meters from the house: baroque church devoted to San Miguel
The church of Soutopenedo, devoted to St Michael, was built in the 12th century. Its Romanesque base was later enriched with Baroque elements -especially its facade and its gorgeous bell tower, visible from the back garden of A Casa da Ita.
● St Michael church on the official tourism web of the regional government (Xunta de Galicia)

● St Michael church on the tourism blog 'Galicia pueblo a pueblo'
Hiking
There are some great hiking routes near the house. Here they are explained, on the official web of the town council

One of the most interesting routes of this area passes by A Casa da Ita: the Boutureira route. And another is the one that finishes at the "Cruceiro" (stone cross), 100m away from the Casa da Ita.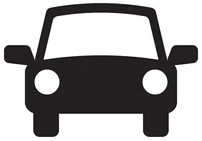 Celanova (16 km away)
In Celanova you can fully taste the spirit of the inland Galicia. The Monastery of San Salvador (built in the 10th century, with Baroque facade), no doubt one of the most important religious buildings in Galicia, is an officially declared National Monument since 1931.
Ourense (12 km away)
Ourense/Orense is the third most populated city in Galicia, after Vigo and Coruña. Not yet discovered by the massive tourism, its area for eating delicious Galician octopus and other tapas around the Cathedral is worth the visit on its own.
Its Cathedral itself is astonishing, Romanesque and Baroque as many other religious buildings of the region.
● Ourense Tourism from Spain.info

● Ourense Tourism from the Town Council

Besides these and other attractions, one of the most popular activities among the locals are the termal baths. Since the Roman times, Ourense is renowned as a termal city, with its hot underground streams, so the city has developed some areas where everybody can enjoy a relaxing time of warm bath outdoors. Some of them are private with a modest admission fee but most are public and free (Outariz, Chavasqueira…). One of them is even in the very centre of the city!
Info about the Ourense outdoors termal baths

Allariz (16 km away)
This town has outstandingly preserved its historical centre. Walking along its stone streets make us connect with its medieval magnificence. But Allariz has also a wide range of restaurants and typical bars.
Last but not least, the town has lately become a destination for shopping, as a lot of main Spanish fashion brands (Adolfo Dominguez, Roberto Verino, Massimo Dutti…) have settled their outlet shops.
What about an afternoon of shopping and tapas dinner in one of the most beautiful towns in Galicia?
Tourism info about Allariz

Ribeira Sacra (50 km away)
This is an impressive natural area around the canyons of rivers Miño and Sil. There are hills, forests, vineyards and above all -monasteries (hence the name: Ribeira Sacra means Sacred Riverside).
● Official web for the Ribeira Sacra

● How to get to the Ribeira Sacra from our house, on GoogleMaps
Vigo (100 km away)
Vigo is the biggest city in Galicia and its main industry hub, but also a popular tourism destination. Not all thanks to its own charms, but also to those of the famous Cies Islands, a natural paradise with several unforgettable hiking routes and beaches.
Attention, as a National Park the access to Cies Islands is strictly controlled, so if you're interested you should get as soon as possible, both:
● the administrative permission (a very simple sign-up process)

● the tickets on the ferry company website

But Vigo offers many other reasons for a visit. Well known lately for its Christmas lights, which -according to the Mayor- rival those in New York, the city is also much visited in summer. Vigo is a very active and welcoming city in which coast lovers will find some of the best beaches in the NW Spain, like the most renown one -Samil.
When people visit Vigo, it's sort of a ritual to have half a dozen -or even better, a full dozen of oysters with white Galician wine in the centric area of A Pedra/La Piedra. Anyway there is a vast range of fancy bars and restaurants.   
Official Vigo tourism site

Santiago de Compostela (112 km away)
The capital of the region is much more than one of the Holy Cities of the Christian world. It's an architecture treasure and the backdrop of an impressing cosmopolitan atmosphere unrivaled in Northern Spain.
Hundreds of thousands of pilgrims and visitors arrive during the entire year to enjoy a unique experience.
Official Santiago tourim site

Portugal (90 km away)
The Portuguese border is little more than one hour away by car. In the border area we can find Chaves, a charming termal village.
Info about Chaves